Maurice Gibb Park, located on the western portion of the Sunset Harbour neighborhood on Purdy Avenue, is getting a $7 million makeover (with $3.3 million being funded by the Miami Beach G.O. Bond Program).
In 2007, the three-acre park was dedicated to former longtime Miami Beach resident Maurice Gibb, a member of the seven-time Grammy Award-winning group the Bee Gees, to memorialize his life and his creative contribution to the City of Miami Beach. Maurice was known to frequent the park for its incredible views of Biscayne Bay. The park, which was then called Island View Park, sat right around the corner from Middle Ear Studios, the Gibb-owned recording studio where the Bee Gees recorded some of their biggest hit music.
The Design Review Board (DRB) officially approved the plans for the park revitalization project, which will install a brand new state-of-the-art playground, new walkway paths, tall shade structures, a dog park, new fishing piers, and a new bay view overlook!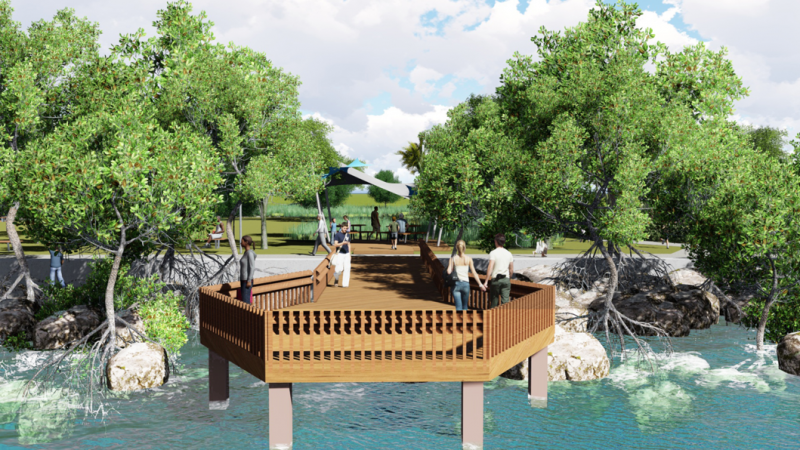 The new playground structure will be an especially unique addition, as it is themed after the 1976 Bee Gees song You Should Be Dancing, an additional tribute to Maurice Gibb and his band. Each element of playground equipment is designed to resemble musical notes and instruments, such as a drum set slide, a guitar and keyboard obstacle course and a giant "fun dome" that lights up like a disco ball. The playground is being custom-made by Monstrum, a Denmark-based company that is internationally known for manufacturing innovative, artistic and architecturally-appealing playground structures for kids. CLICK HERE to see their other custom-made playgrounds in cities all over the world like The Cargo Ship in Höganäs, Sweden or Dr. Zombot in Wuxi, China.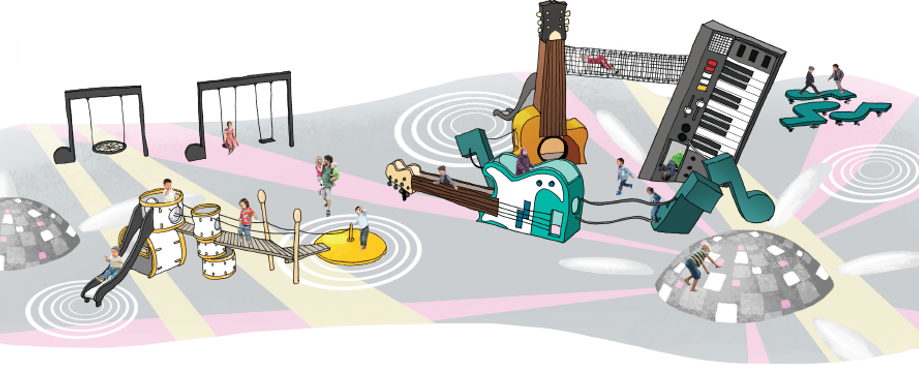 In addition to the children's play features, adults will enjoy the new park furnishings that are also coming to the site, including additional picnic tables, benches, trash containers and lighting poles. The park renovation will also include soil remediation, irrigation and landscaping materials, as well as a resilient seawall and shoreline construction.
New trees, palms, shrubs and ground-covers will be planted all around and across the park. Tree species to be planted will include: Florida-native Silver Buttonwood, Simpson's Stopper and Gumbo Limbo trees, large shade-producing Live Oak trees, and even a colorful Rainbow Eucalyptus tree!
Construction for this G.O. Bond project will begin in May 2020 and the expected completion date is November 2021. With design approval, the project is moving forward right on schedule. To see the full Maurice Gibb Park project presentation that was recently shown to the G.O. Bond Oversight Committee, CLICK HERE!