Three public safety projects are officially underway
License Plate Readers (LPRs)
Public Safety Radio System
Security in Public Spaces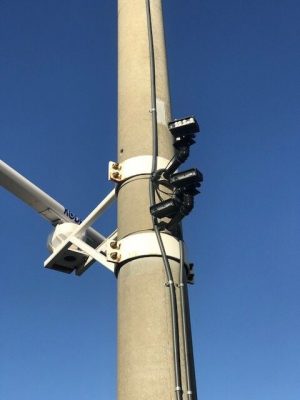 License Plate Readers (LPRs) use advanced software recognition technology to capture license plate tags and run them against nationwide law enforcement databases that register stolen vehicles, wanted persons, missing subjects and other criminal activities. LPRs have proven to be effective criminal-catching tools for law enforcement agencies across the country as more and more municipalities are using both mobile and stationary versions. This past Memorial Day Weekend, the City of Miami Beach had three fixed LPR locations activated at major city entrance points and the results were remarkable. The readers scanned 36,793 license plates and led police to issue 303 criminal tickets, 13 felony and 11 misdemeanor arrests; five firearms were impounded, and two stolen vehicles were found. As part of the G.O. Bond program, 26 new strategic LPR locations will be added. Installations start this month on the MacArthur Causeway, with the Julia Tuttle and 71 Street causeways to follow. New LPRs will be up and running by fall 2019.
The Miami Beach Public Safety Radio System is already in the process of upgrading its critical communications network as various tests are being conducted. As the city transitions away from the current Motorola analog system, it will be joining a large group of local municipalities — including Miami-Dade County, City of Miami, Coral Gables and Aventura, among others — that are already part of the modern Harris Corporation digital P25 network. With high tech functions such as seamless interoperability, encrypted data technology and unified voice, data and application features, the city's 1,000 plus first responders will have a fully operational, best-in-class public safety radio system by the end of the year.
The Security in Public Spaces project involves the purchasing and installation of hundreds of decorative bollards and hostile vehicle barriers that are used to protect pedestrians and bystanders from potential public safety hazards, including vehicle truck attacks, stampedes, fights, road closures, etc. In Miami Beach, this equipment has been used successfully to control crowds during high impact weekends and densely populated events. Since most of the structures are portable and movable, they will be stored in a warehouse and brought out as-needed. The public spaces that are receiving this equipment include heavy traffic areas by the Miami Beach Convention Center, SoundScape Park and South Pointe Park. The new security buffers will be ready and available to use by the end of next month.
Overall, the Miami Beach G.O. Bond Program has $72 million dedicated to police, fire and public safety improvement projects specifically. Check back often for more information as two separate security camera projects are expected to break ground by fall.