..the resident leader behind the Miami Beach G.O. Bond!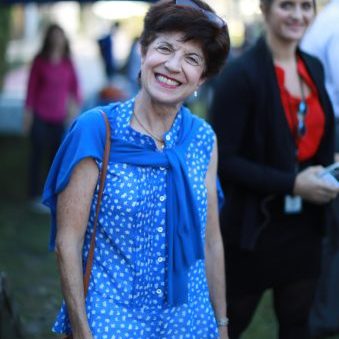 Q: What is your connection to, and relationship with the City of Miami Beach?
Karen: I fell in love with this city from the moment I arrived here 25 years ago from Washington D.C. The sun, the water, the diversity, the heat — all of it has been a joyous love affair. Every time I walk or bike on the Beachwalk to watch the sun come up, I am thankful to be here. Every time I see a stunning sunset over the bay, I am filled with awe.
Over the years, my passion for the city led me to become a very involved resident. I served as PTA president of North Beach Elementary, Nautilus Middle and Miami Beach Senior High as well as chair of the city's Committee for Quality Education. As a mother of two, I have always valued the city's commitment to its children and families. As a registered nurse, I served as vice chair of the Health Advisory Committee. I am proud to have had the North Beach Elementary health clinic named after me. Now, I am thrilled to lead and champion the city's G.O. Bond initiative.
Q: What are your goals for the G.O. Bond Program and for quality of life in Miami Beach?
Karen: It is important that we always keep sight of our responsibility as an oversight committee to make sure our projects are completed as promised to our residents — within budget and in a timely manner.
Miami Beach's quality of life will be dramatically enhanced by these amazing and diverse projects. Just imagine that we will soon be able to walk or bike from South Pointe Park all the way to the end of Miami Beach on our new world-class public Beachwalk. Our committee and our staff is dedicated to making sure we do these projects right.
Q: What made you want to step into this role as Chair of the G.O. Bond Oversight Committee?
Karen: I had the opportunity to chair the G.O. Bond Advisory Committee which recommended the November 2018 ballot measures that were overwhelmingly approved by Miami Beach voters, so I was honored to continue the work when I was asked to chair the oversight committee.
With a fire station in South Beach, upgrades to most of our community parks, a new wellness-based facility complex, security cameras, traffic calming measures, and major investments in the reforming of Ocean Drive, Washington Avenue, and 41 Street, I realized the incredible impact these projects would have on our city. Now, I get to work with a great group of resident leaders and an efficient program team that is made up of four talented women.
Q: What are your thoughts on the future of this community?
Karen: I have always been an optimist. I believe in the power of collaboration. These are challenging times, but there is extraordinary opportunity now and in the future. We can reexamine our community and mold it in to how we want it to be. To be successful, we must continue to listen to one another, value the thoughts of our neighbors and residents, and never lose sight of the big picture.
Our community is full of wonderful residents who are committed and invested in our future. We are blessed to live here, and we must always be part of the solution. We also have an extremely dedicated and astonishingly knowledgeable city staff. Together, we can accomplish so much.
Your Voice, In Action!
Responsible for the monitoring of G.O. Bond project budgets, timelines and progress reporting, the G.O. Bond Oversight Committee is made up of 11 resident members that are appointed by the Mayor and Commission. The G.O. Bond Oversight Committee meets once a month. All meetings are open to the public, and each meeting has two separate opportunities for public comment.