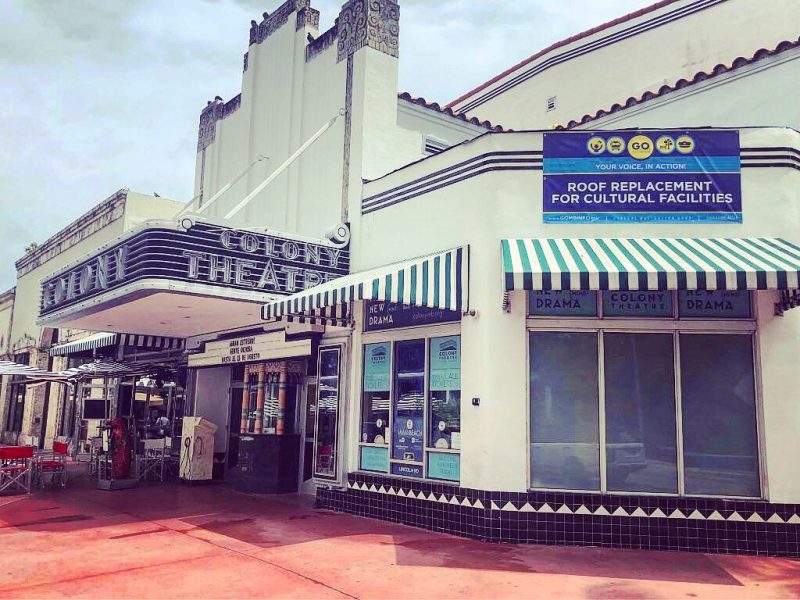 This month, the city completed its first of three cultural facility roof replacements that are funded by the G.O. Bond Program. With a new "cool roof", The Colony Theatre can now bid "au revoire" to water-intrusive leaks and overly-high power bills. Aiding the preservation of the beloved Art Deco venue, the new roof raises the structural resilience of the entire building below it. The other two cultural facilities that are set to receive full roof replacements are The Fillmore and Miami City Ballet. Both will get similar sustainable roofing systems early next year. 
The city's Urban Heat Island Ordinance requires new construction to install sustainable roofing systems, which can be "cool roofs", solar roofs, blue roofs or green roofs. "Cool roofs" are modern roofing solutions for buildings that experience consistent and extreme heat. Finished with a reflective coating, the flat white surface is designed to bounce direct sunlight away from the structure, and therefore maintain interior room temperatures. According to the Environmental Protection Agency (EPA), "cool roofs" can:
Reduce energy and power costs by decreasing need for adjusting AC temperature settings.

Reduce greenhouse gas emissions by lowering associated air pollution. 

Improve human health and basic indoor comfort by absorbing less heat and humidity. 
The Colony Theatre Roof, AFTER:
The Colony Theatre Roof, BEFORE:
The Colony Theatre first opened in year 1935 as a Paramount Pictures movie house. Today, the Art Deco building is managed by Miami New Drama and is home to a wide array of music, dance, comedy and theatre arts performances.